Digitized and digital: Two sides of the digital transformation coin – Digital Transformation
, 4 years ago
4 min

read
281
According to a research brief out of MIT, thriving in the digital age means undergoing two distinct transformations: Digitization, i.e. the incorporation of digital technology into core operations like accounting and invoicing, and becoming digital — "developing a digital platform for the company's digital offerings."
While both of these require companies to embrace emerging technologies, these present two distinct challenges, each with a differing set of rules and strategies. As explained by Sara Brown from the MIT Sloan School of Management, "Becoming digitized relies on traditional business methods. Becoming digital requires breaking old rules and embracing new thinking." 
Digitization relies on the company's operational backbone, which supports core operations — i.e. how a company delivers goods and services, maintains its books of record, and completes essential back office processes, explains the research brief. Traditionally, base technologies for these were ERPs, CRMs, and core banking engines. Today, though, it's likely software-as-a-service (SaaS).
At the same time, becoming digital means creating a digital platform — "a foundation for a company's digital offerings and their rapid innovation." Creating speed and innovation, "this platform, a combination of different software components that can link with partners and connect with customers, enables a company to quickly develop and add new digital offerings, and targets revenue growth," explains Brown.
When it comes to managing both sides of this digital coin, decision-makers must manage leadership, operational, and cultural differences, Brown says:
Leadership: For digitization, leadership is firmly in place, making clear decisions, outlining processes and standards, and ensuring adoption success. 
For a digital platform, however, top-down decision making stands in the way of success. Trusted teams are in the driver's seat, innovating and implementing new ideas. It's up to management to define an overall digital vision.
Operational: "Changes to the operational backbone can be planned and evaluated using traditional methods like metrics and customer satisfaction," writes Brown. On the digital platform side, these methods only result in frustration.
Cultural: Digitization isn't changing the fundamental place of the operational backbone, MIT's research found. A digital platform, however, "means radical changes in how decisions are made and work gets done. This can be uncomfortable for people at every level."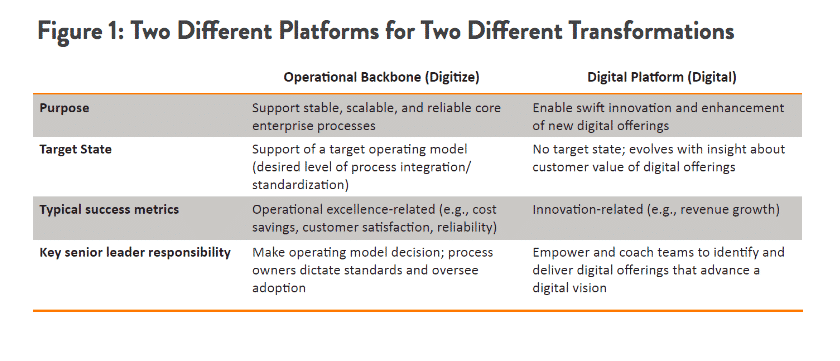 When it comes to actually managing these two different teams, MIT researchers suggest these three actions:
Keep 'em separated: Simultaneous management of digitization and digital means clearly distinguishing their separate responsibilities, says the research brief. Examples of companies that have taken this approach include Schneider Electric, Royal Philips, and Toyota. In another example, one organization's operational backbone was managed by the CIO, with a Chief Digital Officer taking the lead on the digital platform.
Funding should also be separate. As the researchers outline, "People responsible for digitization can better pursue operational excellence when the operational backbone receives consistent investment, year after year, at the enterprise level." Meanwhile, funding for short-term digital innovation "experiments" can be easily upped or decreased, depending on outcomes.
It's important, however, to keep the overall shared vision in mind, explains tech specialist and Tech Wire Asia editor Soumik Roy, for TechHQ. Leaders might feel that separate teams are a waste of resources, he writes, "because ultimately, the business needs its digital initiatives to converge — like its data, analytics, and platforms." But in reality, separate teams can optimize DX efforts, but only if a shared vision of the organization's future is kept top of mind: "Each team, working on their own side of improvements, can make contributions that help move closer to the end state. In practice, this is often more productive as well."
Rule breaking: Inherent in digital innovation is breaking old rules and making new ones, the researchers found — from subverting budgets processes to guarantee resources to bypass CRM approaches, among other challenges. 
Rule breaking ends up being manageable because it's relatively contained to a small team that's experimenting, though it's crucial digital teams have sign-off and ongoing support from senior leadership. 
New leadership: "Not all people who have successfully led traditional businesses are well-suited to digital business leadership," says the brief. "The idea of breaking rules to identify what works may feel terribly unnerving for some— even when they have been encouraged to experiment."  
If someone in a leadership position isn't comfortable with creating new rules, they explain, coaching could be implemented to help guide them in the right direction. Alternatively, there is likely plenty of new talent that is ready to implement a shift.
Related posts