How Does Telemedicine Work And Its Anatomy
NCrypted @NCrypted, 3 years ago
7 min

read
217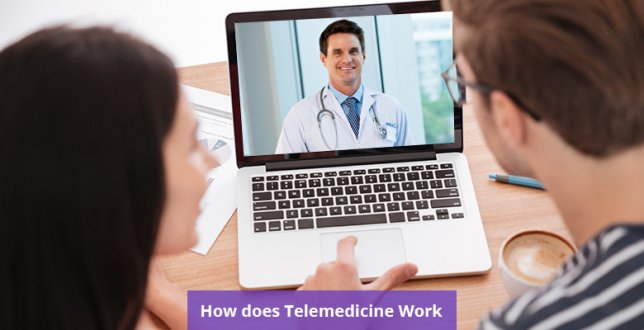 Technology and healthcare have gone hand and hand for many years. Consistent forge ahead in the medical field has saved millions of lives and improved many others. As the year passes the healthcare industry is changing faster than ever before. With the broader availability of mobile internet, there is no telling what advances will come next? More than 80% of people these days prefer to use online services. Ever since right with the few clicks you can research conditions and the symptoms online. Just analyze, who don't like it if everything that they want is available at their doorstep? Taking inspiration from this, Telemedicine came into the picture. We can say that Telemedicine has revolutionized the way the healthcare process is being done. 
You might be thinking of getting in-depth details on the ' Telemedicine business model' or 'how does Telemedicine work' or 'how does Teladoc work', right? To make a better understanding of it, let us get started with everything you need to know regarding Telemedicine.
Telemedicine is a term that covers all of the ways between you and your doctor that can use technology to communicate without being in the same place. Telemedicine has a lot to offer when it comes to audio calls, video chats, emails, text messages, etc. The idea behind telemedicine is not to replace face-to-face consultation but to complement it. It is also known as Telehealth. 
Glimpse Into The Future of Healthcare Industry
Over the past few years, the growing popularity of telemedicine is something that we all have been hearing about. But contrary to popular belief, telemedicine is not a concept that originated in the last decade. Telemedicine, as a concept, can be dated back to the 19th century. It originated due to the advent of telecommunication infrastructures such as the telegraph, telephone, and radio. 
The earliest adoption of telemedicine technologies can be traced back to the Civil War when the use of a telegraph allowed casualties to be reported and even aided in ordering medical supplies. But today, telemedicine is an entirely different thing. As technology is advancing at an exponential rate, telemedicine is also changing faster than ever. But now let's throw some light upon the most important thing for any entrepreneur, that is how does Telemedicine work.
How does Telemedicine Work?
Telemedicine is described as the provision of remote clinical services, with two-way interaction between the patient and the doctor in real-time. Such services can be especially beneficial during situations where the patient has a non-emergency medical problem that does not require the doctor to see the patient. 
The most significant contribution of telemedicine to the healthcare industry is the convenience that it offers to both patients and medical practitioners. It allows patients to get medical advice while removing the necessity for a physical visit to the doctor. It not only saves time, but it is also cost-efficient. Furthermore, the ease of access and affordability of broadband internet services is taking telemedicine to the next level. Since video calls and audio calls are more feasible now, they are being incorporated into telemedicine technologies. 
In late 2019, China successfully completed three remote surgeries, where doctors operated patients in remote physical locations with the help of surgical robots and a live feed of the operation. While this itself is beyond belief, what is more, unbelievable is that Dr. Hugo Gernsback predicted that sensory feedback devices would allow physicians to see their patients through a television screen and touch them from miles away with robot arms, in 1922, almost a century ago. 
After reading all about Telemedicine and how does Telemedicine work, let us take a deep dive on how does Teladoc work who provides telemedicine services.
How does Teladoc Work?
Teladoc is a virtual healthcare company in the United States that provides telemedicine services. Its comprehensive virtual care solutions are capable of serving organizations and patients all around the country. The company's services are divided into the following six categories: platform and program services, guidance and support, expert medical services, mental health services, telemedicine, and integrated virtual care. The primary channels used by the company are telephone and video conferencing software. Teladoc's on-demand remote medical care service allows patients to be connected to a board-certified, state-licensed physician within a few minutes, just by logging on to the service. The company earns money from individual consultations, but since its biggest customers are large employers and insurers, it generates most of its revenue through a yearly fee charged per subscriber. Taking inspiration from this Teladoc Clone proves to be one of the on-demand remote medical care solutions.
Telemedicine Business Model
Since the coronavirus outbreak first started in November 2019, the virus has continued to spread at a rapid rate, and the situation has significantly worsened. Right now, the world is in a dire need for a financially viable healthcare model. By applying the technology at our disposal carefully and creatively, we might be able to overcome the challenges that we face right now. 
To develop a business like Telemedicine, you must have defined the business model that will economically sustainable and successfully address the challenge. Here are some of the telemedicine business models that have proven effective in addressing a variety of medical needs:
Access to Care Model – This model provides medical care access to people who live in remote areas. This ensures that all patients will be able to receive healthcare services regardless of their geographical location.  
Cost Savings Model – By eliminating transport costs and sharing resources between hospitals, this model effectively reduces the cost of healthcare services. 
Access to Market Model – This model allows an organization to expand their market coverage and deliver their expertise to a broader target market. 
When it comes to your telemedicine business model, no model will fulfill all your patient's and your needs. The healthcare service provider's responsibility is to choose a business model that will cater to the needs of the market segment they want to serve. It is also vital that your organization complies with state and federal laws. Most importantly, you should focus on building a valuable relationship with your customers. 
Additional information that should keep in mind while selecting a telemedicine business model
Customer Segment (for those individual or organization who pay for telemedicine services)
Customer Bonding(the ways to create a positive relationship between provider and customer)
Key activities (what you need to deliver value to your customer)
Cost structure
Channels for value delivery(internet, telephone or both)
Telemedicine is the result of technological advancements in the healthcare industry being used not only for research but also for patient-doctor interactions. Clearly, telemedicine benefits patients by allowing them to consult with a medical professional without leaving their homes. But it also helps healthcare providers to increase the efficiency of their diagnosis and treatment. This ultimately leads to better patient outcomes. As government regulations continue to support telemedicine-based models, healthcare providers will be able to leverage advanced technology to increase consumer engagement and better manage and prevent illnesses. 
The fact is that healthcare industries are growing at a fast pace. Players like Telemedicine have already made a name for themselves. Building a healthcare business like Telemedicine will help you in the present as well as the future. As we all know about the current COVID 19 crisis and to let businesses survive in this pandemic, going digital is important. 
Let's become part of standard care and build an emerging business right away!
How to Launch Your Own Business In Telemedicine World?
If you're willing to start your own healthcare platform – you should go with our best Telemedicine Script which has customized features to let you roll with your own Telemedicine business.
Here are some other informative articles explained by NCrypted Websites:
Related posts