Impact of Automation in the Enterprise sector by building an adaptive workforce
Sushena p, 4 years ago
5 min

read
214
In this blog, I'll be sharing my insights on how an enterprise is embracing the digital transformation through an adaptive workforce –automated bots. Every organisation today wants to achieve success through automation. In this blog, we will be discussing how to achieve it with experts from a successful case study on a leading organisation from the retail industry.
What is an adaptive workforce?
An adaptive workforce is the group of projects oriented to emphasize collaboration, agility and skill sharing. This process is done through an automated bot with less human involvement. These bots are configured to perform specific actions on a process using RPA, which can be in the form of software setup or a configuration process change in a node.
Building an Adaptive Enterprise
To stay ahead of technology enterprise must adapt to the latest innovations and technologies in their workforce. This can be achieved by identifying future opportunities and by proactively upgrading themselves to become an adaptive enterprise. Organizations who want to build a competitive advantage must have a different kind of approach towards delivering differentiated solutions to their people.
To achieve the level of growth and future market leadership, enterprises must adopt several best practices.
Below are the top three must adopt practices for an enterprise:
Making employee techno-fit: With the rise of bots and AI that are reshaping and rewiring workplaces, adaptive learning technology brings value to organizations encouraging them to have a different level of approach in learning and not depending on its employees to be a part of learning the same. Organizations who want to build a competitive advantage must have a different kind of approach towards delivering versatile bespoke technical learning path to their people.  They must proactively analyze and forecast for the type of skilled workers needed in the future and to develop a workforce plan to cover the critical talent gap between the existing and new employees.
Leadership should be ready to invest and embrace changes: Human upskilling to technology transformation is another dimension that an enterprise must adopt, this will ensure a better forecast of future opportunities and help organizations to reconfigure themselves as per the demand proactively. Adaptive enterprises adopt new business models and the framework more quickly than a monolithic organization. Employees should not fear change; they need to open to change and quick to adapt.
Calibrating platforms to deliver values: Technology advancement help companies to overcome the barriers in adapting to the change while making the transition to the new business model smooth.
The demand for an Adaptive Workforce
A bitter truth, the future of work in any organization, will involve humans to work along with robots, intelligent machines from AI and automation. Robots will rule the manufacturing and production sector to produce 99.9% excellent product, whereas bots will replace the L0 and L1 task with bots in service-desk industries. Forthcoming years more than 80% of the process-oriented job will be done by AI systems.
Over quantitative reasoning skills will be leveraged 50% by humans and 50% by machines to achieve 100% while humans will continue to do more than 80% of cross-functional reasoning tasks. Best performance will be achieved through collaboration between humans and machines.
Happiest Minds contribution to the Adaptive Workforce space
One such solution of the adaptive workforce which we have developed using RPA bots that handle the manual process of extracting data from a scanned receipt along with a colour pattern for a vendor receipt. We have used a few open sources and Blue Prism RPA tool for Europe retail domain. This solution has transformed customer bill verification process to 97% accuracy. Earlier this was handled manually with 3 FTE.
Why, Blue Prism?
Blueprism is one of the most consistent tools for RPA. They deliver a 24/7 connected Digital Workforce across an organisation entire network or wherever the business needs it most. The tool has a proven track record of accelerating automation and improve customer experience with RPA, advanced AI and cloud.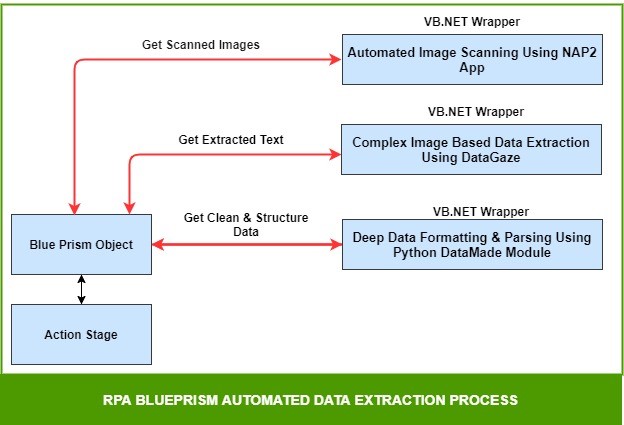 This use case was handled manually by verifying and uploading the receipt parsed data to HRMS (Human resource management system) portal for approval and payment processing. Extracting the data from scanned receipt is a complex process. There are two  factors which decide the quality of bots in a workforce, firstly degree of automation is proved by the number of bots it has in its workforce and degree of orchestration as how RPA is integrated with tools to provide value addition to product. Below features are the value added for Blueprism product.
DataGaze is a python module for extracting the color pattern from a scanned document.
Data-Made another module in python called for in-depth data formatting and parsing, along with above NAP2 tool for scanning the document, which in turn comes with command-line interface.
All this integrated with RPA bot, to upload the data into HRMS portal for approval.
This RPA bot deployment has benefited customer in Finland, Sweden and Norway. Below is the High-level overview diagram along with Blue Prism.
Result: Post-implementation of Receipt extraction bot process, 98% proven success rate on processing the bills in a day. Products such as edible Oil, Snacks, Frozen foods, Cosmetics and toys are categorized by color, since each of these clauses has VAT billing tagged. Since the color code identification module has been stitched with RPA bot. This bot process is implemented successfully in 8 regions across Europe.
Conclusion:
As Adaptive workforce and AI are reshaping the workplace that will create a competitive advantage and delivering differentiated solutions to their customers. Organizations must embrace adaptive workforce to increase productivity.
Finally, an adaptive workforce in automation will replace one-fifth of service desk interactions. Service desk interactions, Kiosks, and Virtual and Augmented reality are on the rise and are keeping these predictions on track. Cognitive systems, Robotic Process Automation, and various chatbot technologies have combined to keep pace with these predictions. Gearing up to embrace the technological change will make humans and enterprise to survive the competitive world.
Related posts