Marketing automation – A catalyst for digital transformation
Softweb Solutions Inc. - An Avnet Company @softwebchicago, 4 years ago
5 min

read
562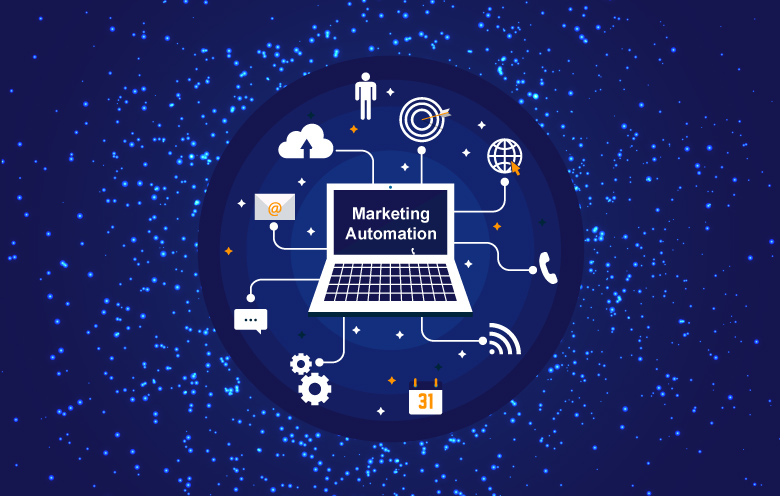 Marketing automation (MA) is growing at a high pace and it is positioned to expand by 8.55%, increasing market capitalization to $5.5 billion in 2019. Since MA is benefitting businesses largely, it is no wonder why many companies have started using it already. Moreover, marketing automation is also utilizing artificial intelligence (AI) to help companies better target their customers.
Marketing automation strategies enable you to create personalized messages and deliver them at the time when customers are most receptive to the content. With a richer database and learning models, you can create content and rely on automation to deliver that content in very little time. Automation also helps us to carry out tasks in much easier ways by analyzing huge quantities of user data and dividing it into numerous segments.
Why you need marketing automation
As a marketer, your focus is to grow your business in every aspect. And marketing automation helps you in numerous potential ways that can help you to increase your sales and generate greater revenue.
According to a study conducted by Lenskold Group, 78% of marketers believe that marketing automation plays a crucial role in revenue growth.
The companies that are already using marketing automation have increased their profit and it is only expected to grow as they move forward.
Let's look at a few reasons why your business needs marketing automation:
Build and update standard operating procedures for using different tools like Marketo, Pardot, Autopilot, HubSpot, Adobe Campaign, etc.
Avoid sending each email campaign, response and blog post manually to save time and effort.
Measure the impact of your social media marketing efforts by connecting your marketing activities to trackable metrics.
Nurture visitors on your website by providing them with relevant content and have better chances of making a sale.
Provide more qualified leads to your sales teams and help them understand their prospects better.
Help you grow your email list to increase conversions and enhance business growth.
Insights
Transform your Marketing from Manual to Modern
The world of marketing has changed and you need new tools and technologies in order to stand out of the competition.
What are some of the myths about marketing automation?
Marketing automation is only relevant for email
MA is used across a number of channels and not just email. You can interact with your customers by using a contextual sign-up form through your website. Gather information about your customers like their contact numbers and create ways to market using these details via your marketing platform.
Marketing automation is only for big businesses
This is not true. As a small business always has a chance to get bigger, it is worth to invest in automated processes to take over your manual processes. This would, in turn, help you to focus on higher-level activities.
Marketing automation is just sending messages automatically
MA helps to send messages to customers through email, web, social media and text automatically and ensures that you don't forget it. It maximizes efficiency and helps you to target and identify your potential customer's needs.
Automated marketing comes off as robotic and impersonal
It is totally up to you how well you personalize your materials and make them speak to your customers. You can send highly targeted and specific content to your customers. If you will group people in narrow workflows, you will be able to send impactful content related to your previous interaction with them.
Email is one of the effective marketing channels and there are other channels like social media, lead generation, management activities, landing pages, etc. that can be automated and used for marketing as well.
How marketing automation benefits marketers
Automation minimizes the time and effort required in collaborating with prospects to improve the performance of a campaign. It enables you to provide a quick, personalized response, which results in better customer engagement. Due to competition in the industry, it has become imperative to anticipate and meet customer expectations precisely to create a strong association and drive better revenue to stay ahead of the competitors.
Automation technology also helps to recognize ways to target customers with the most effective content and offers. More appropriate content brings in more business.
The global marketing automation market size is expected to grow from USD 3.3 billion in 2019 to USD 6.4 billion by 2024, at a CAGR of 13.9% during the forecast period. – -MarketsandMarkets
Marketing automation and AI – The new age of marketing
AI is broadly used in marketing automation. Let's look at a few such use cases:
Approaching more people
Artificial intelligence helps you to engage new customers more efficiently. It derives useful insights from the vast pool of data that includes your customers' interests, buying habits and past communications and helps your sales teams to filter better target customers. This makes marketing more efficient and helps you to create dynamic content to engage customers.
The intelligent analysis of customer data helps in email marketing, ad content, social media marketing and search engine optimization which is not easy without the processing power of AI.
Retaining customers
Retaining a customer is as important as it is to find one. AI helps you to stay updated with minimum input, providing customized content to customers, personalized recommendations and human-like support through virtual assistants and chatbots that help in retaining your customers.
Enhancing efficiency
An AI-enabled chatbot helps in increasing efficiency and reducing overhead costs. It uses personalized information for communicating with every customer and provides real-time, valuable assistance in a targeted and cordial manner. This helps you to increase engagement that results in conversion and boosts your bottom lines.
The final say
All in all, marketing automation acts as a catalyst and speeds up the process of digital transformation for your organization. It also enhances the efforts that have already been proven successful. Additionally, AI in MA offers numerous possibilities and as AI continues to develop, its integration into marketing automation makes it easier to combine numerous marketing tools for creating and managing customer experiences. Also, businesses that implement marketing automation tend to perform better than the businesses that don't. Hence, you must use automation to build engagement and strengthen the customer relationship which ultimately results in conversion. To know more about marketing automation and its implementation, talk to our experts.
Related posts