Retail Digital Transformation: From In-Store to Omnichannel
Aadil Mukhtar @aadilmukhtar, 3 years ago
6 min

read
380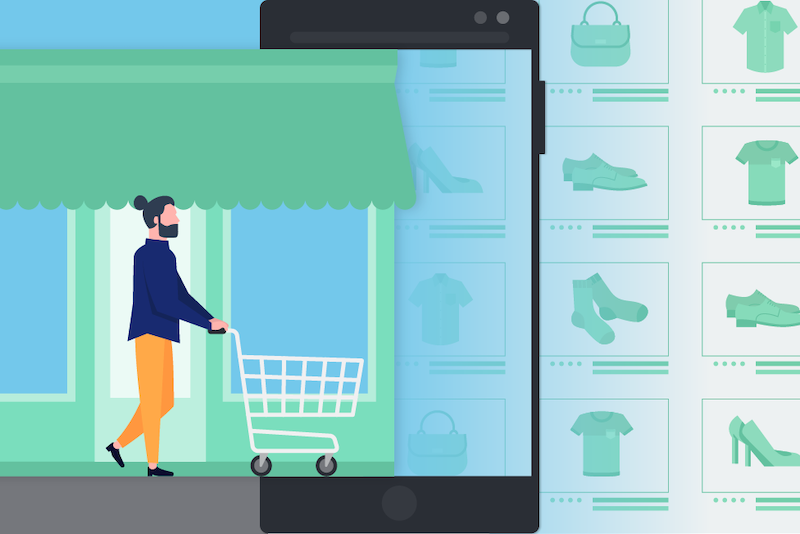 Every leader in the retail space has seen the writing on the wall. Adding digital retail to your brick-and-mortar-based business strategy is the only way to take advantage of the benefits and keep up with the demands that come with the growing number of omnichannel shoppers.
After reading this guide, every retail leader should be able to do the following:
Convince their firms of the value of pursuing omnichannel retail
Fully understand the competitor and consumer trends that make omnichannel a necessity
Choose the best retail technology to implement digital transformation to serve new markets best and outperform competitors
What Does Retail Digital Transformation Mean?
Digital transformation is how businesses use digital tools to strengthen and revolutionize the way they're using their staff, their data, and their systems to create value and remain competitive. And nowhere is it more necessary than in retail.
Why Should I Care About Retail Digital Transformation?
At its core, the answer as to why you need to care about retail digital transformation is a simple one: Because leaders in the retail space are already pursuing retail digital transformation and because consumers want it — and reward the businesses that offer it.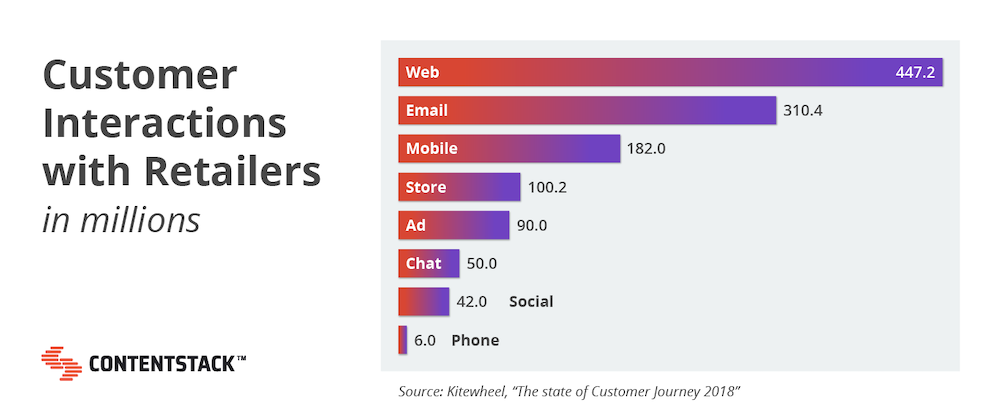 Retail has the most diverse mix of marketing channels out of any industry. Consumers who use these channels to shop have a 30% higher lifetime value, spend 4% more during the average store visit, and spend 10% more online. Omnichannel shoppers also visit their favorite stores 23% more often and are more likely to recommend their favorite stores when compared to single-channel shoppers.
With ROI like that, it's hard not to care about retail digital transformation. While few industries are under as much pressure to ensure delightful omnichannel experiences as retail is, neither are they poised to reap the same kind of return on their omnichannel investments.
What's Driving the Demand for Retail Digital Transformation?
These are some of the essential trends that are converging to make right now the right time to set your sights on retail digital transformation.
Demand for Self-Service
Over 70% of U.S. consumers think self-service technologies that reduce the need to interact with retail staff improve the retail shopping experience. By installing specific in-store smart devices, it's possible to enable consumers to shop on their own, which we'll talk about in more detail later in this piece.

Some sources estimate that the average person will own at least 15 internet-enabled devices by 2030. Already, over 60% of consumers use their smart devices in-store to compare pricing, find coupons, check inventory, and more. And they can also use those smart devices at any time to research a product their friend just told them about, make a quick online purchase to pick up on their way home, or Tweet to thousands of followers about their frustration when a brand springs expensive shipping fees on them during the check-out process (Seriously, consumers don't like paying for shipping!).
Retail digital transformation will help you keep consumers happy in a world where they can pull out a digital device and get almost anything they want at any time.
Rising Competition
If you're wondering which of your competitors are going omnichannel, it's probably time to reframe the question to ask when they're going omnichannel, and what you can do to be among that first wave.
Powerhouses in clothing (like Neiman Marcus), furniture (like Crate and Barrel), and even retail banking (like Wells Fargo) verticals are adding digital experiences both online and in-store to keep up with the modern shopper. These trends only make it even more clear that retail organizations must find ways to incorporate digital tactics to create truly omnichannel shopping experiences.
Technology for Transforming Your Retail Operation from In-Store Only to Omnichannel
Implement any combination of these technologies and become a worthy competitor in the omnichannel age.
In-Store Mobile Devices Make Aisles Endless
An "endless aisle" refers to when a physical store implements digital devices like kiosks and tablets to enable customers to continue shopping beyond what's in-store. Endless aisle shoppers use these smart devices to browse additional colors, styles, sizes, customization options, and even related items, place their orders, and have their purchases shipped right to their homes.
On the retailer side, endless aisles are great for capitalizing on buyer intent without the high cost associated with having large quantities of product on hand and a large number of employees in the store at all times.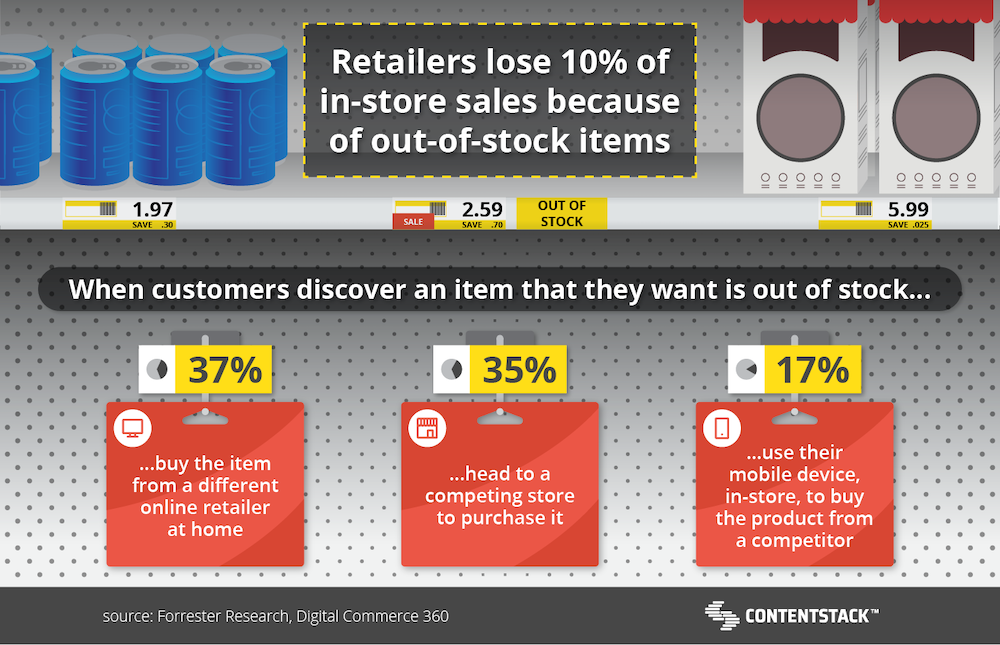 Proximity Marketing Grabs Shopper Attention At Just the Right Time
Proximity marketing combines location and personal data to send consumers timely offers via their smartphones. By placing sensors around a physical area, when a consumer with a smartphone comes into range, these sensors try to identify the person and their relationship with the brand. If it can determine that the person is connected to the brand via social media, has used their email address before to purchase something or subscribe to marketing messaging, is logged into the brand's app, etc., a personalized alert appears on that person's smartphone.
Proximity marketing is another retail digital transformation tactic that helps grab consumer attention right when they're in the shopping mindset.
Augmented Reality Provides Part-Physical, Part-Digital Shopping Experiences
Augmented reality (AR) technology enables people to use the cameras on their smart devices to add digital elements to their physical environments. In recent years, AR has expanded outside of the gaming world as retailers have found ways to use it to create wholly-unique shopping experiences.
IKEA is one of those oft-referenced brands that is taking advantage of AR to merge physical and digital retail. The furniture seller's mobile app enables consumers to visualize how a product may fit into their space by virtually "placing" it in a room among their real-life furniture.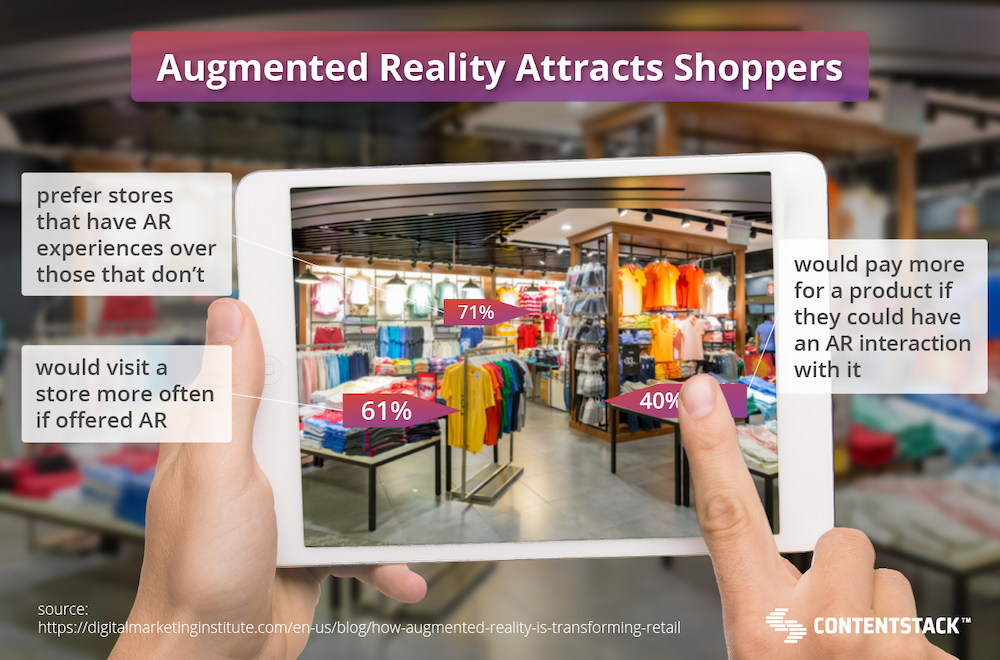 Modern Content Management Keeps Product and Marketing Content Fresh and Relevant
Publishing accurate and relevant product and marketing content is hard enough before factoring in the growing number of consumer touchpoints. For retailers that don't have — and don't want to hire — a veritable army of writers to create content and IT professionals to manage content, there's the headless CMS.
A headless content management system (CMS) consists of modern, decoupled architecture that delivers content from a central back-end repository using application programming interfaces (APIs).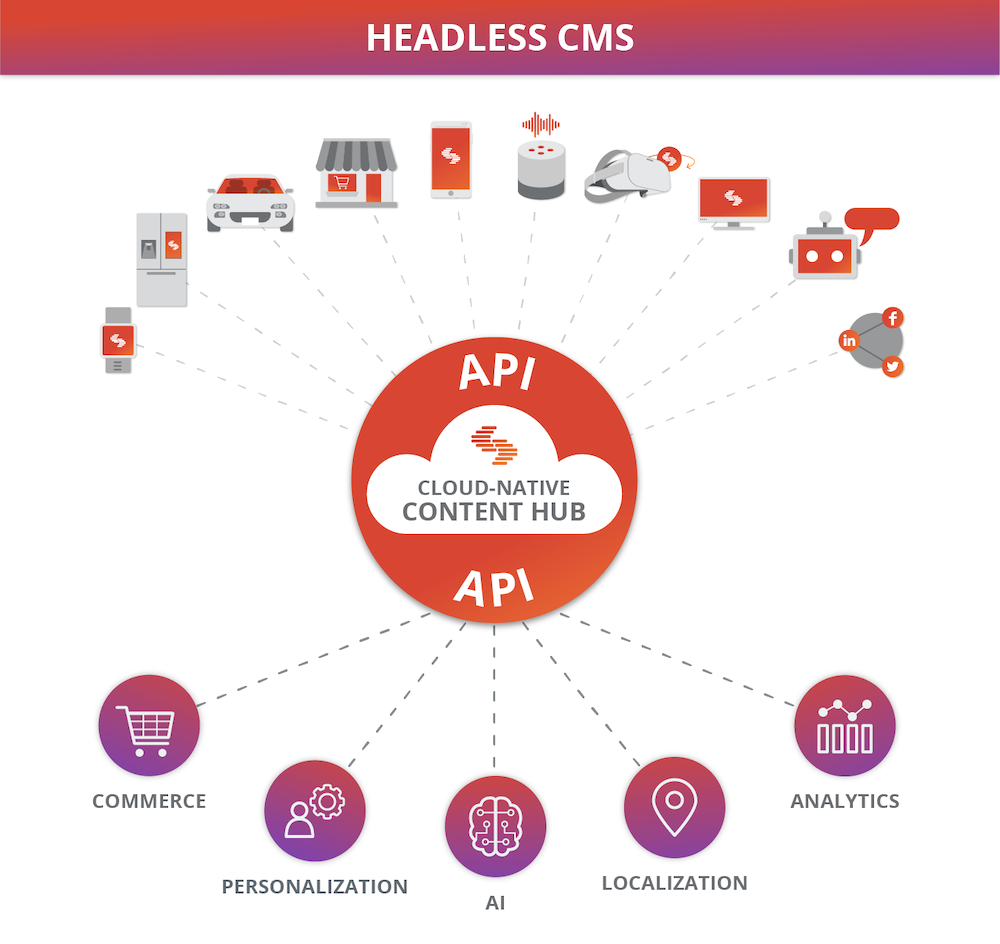 In English, that means businesses only have to create content and product information one single time. With headless CMS, this valuable content gets stored in modules that are easy to search, optimize with a variety of third-party integrations, and seamlessly publish to various channels and devices.
Repurposing content means no more wasted time manually rewriting, copying, and pasting content across platforms. And it means no more waiting on a development resource to make content changes on your website pages or apps!
Don't Wait Any Longer to Pursue Your Omnichannel Retail Digital Transformation
You've seen how an omnichannel retail strategy benefits businesses that invest in it. And you understand that trends indicate that omnichannel retail is the path to success in the future. Now you've even got a guide to the best technology to get you there! Start pursuing your omnichannel retail digital transformation now, and you'll thank us later.
Related posts