Scientists Created Holograms You Can Touch—You Could Soon Shake a Virtual Colleague's Hand
Ravinder Dahiya, 2 years ago
5 min

read
301
The TV show Star Trek: The Next Generation introduced millions of people to the idea of a holodeck: an immersive, realistic 3D holographic projection of a complete environment that you could interact with and even touch.
In the 21st century, holograms are already being used in a variety of ways, such as medical systems, education, art, security and defense. Scientists are still developing ways to use lasers, modern digital processors, and motion-sensing technologies to create several different types of holograms that could change the way we interact.
My colleagues and I working in the University of Glasgow's bendable electronics and sensing technologies research group have now developed a system of holograms of people using "aerohaptics," creating feelings of touch with jets of air. Those jets of air deliver a sensation of touch on peoples' fingers, hands, and wrists.
In time, this could be developed to allow you to meet a virtual avatar of a colleague on the other side of the world and really feel their handshake. It could even be the first step towards building something like a holodeck.
To create this feeling of touch we use affordable, commercially available parts to pair computer-generated graphics with carefully-directed and controlled jets of air.
In some ways, it's a step beyond the current generation of virtual reality, which usually requires a headset to deliver 3D graphics and smart gloves or handheld controllers to provide haptic feedback, a stimulation that feels like touch. Most of the wearable gadgets-based approaches are limited to controlling the virtual object that is being displayed.
Controlling a virtual object doesn't give the feeling that you would experience when two people touch. The addition of an artificial touch sensation can deliver the additional dimension without having to wear gloves to feel objects, and so feels much more natural.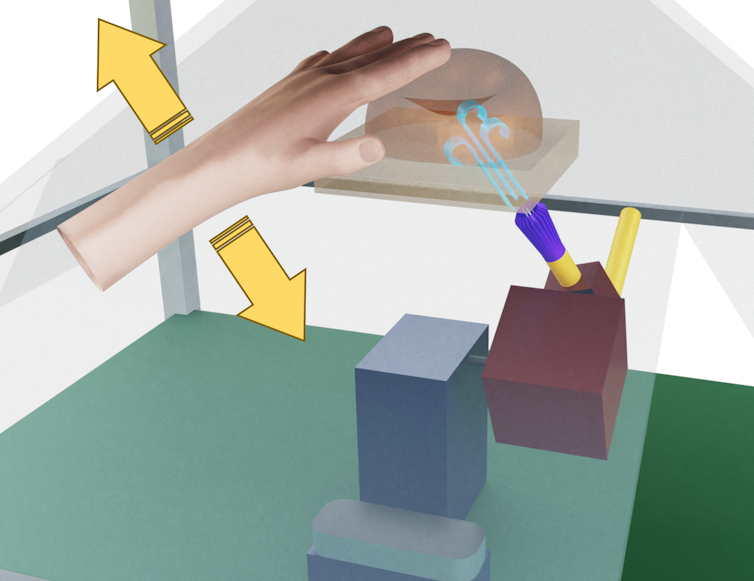 Related posts